On-board telematics and After-Sales Service
Context
Founded in 1881, with a worldwide presence, Haulotte is a manufacturer of equipment for lifting people and loads. Its cranes and nacelles are widely used in France and around the world.
With 7 product lines and 3 ranges of telehandlers, the catalogue of spare parts for Haulotte products is particularly rich.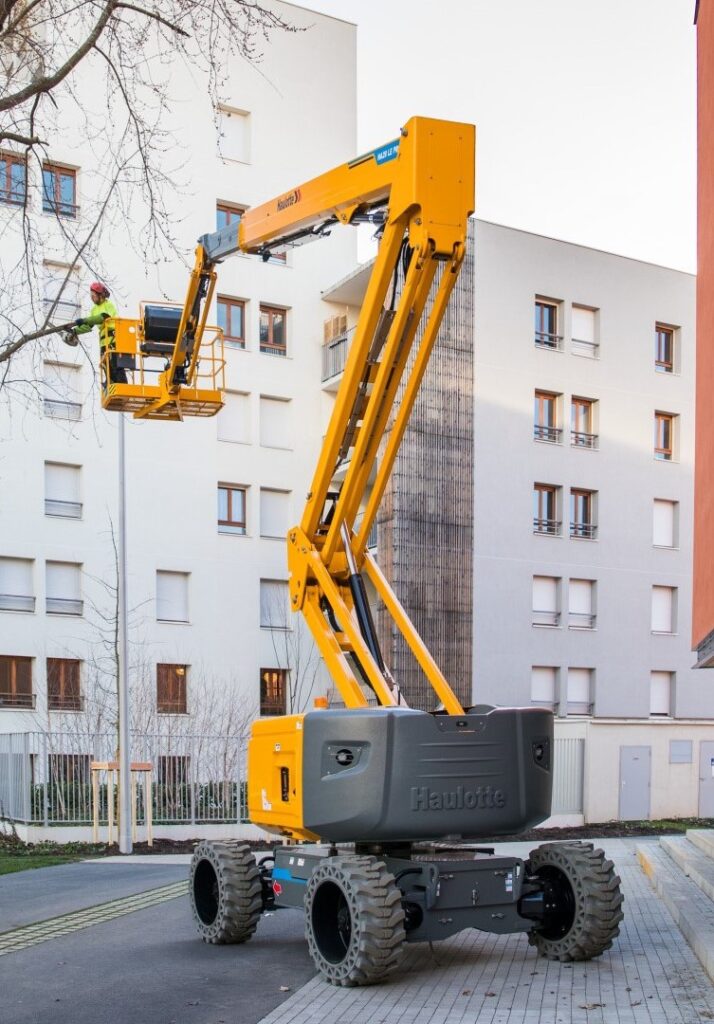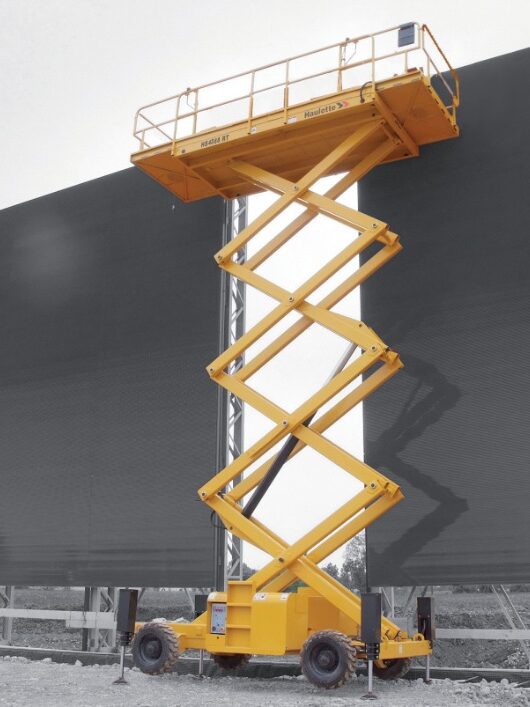 Haulotte statistics
6 industrial sites
7 product lines for lifting people
21 subsidiaries
2000 employees
439.6 M € turnover
Creation date: 1881
Haulotte Service Portal
10,000 users
175,000 spare parts references
24/7 support availability for customers worldwide
A Haulotte partner since 2007, RTE Services first supported the company in the digitalization of its spare parts catalogue. This web portal quickly became the cornerstone of the after-sales activity by enriching itself with new functionalities such as online ordering, requests for quotes, information, stock, and prices in real time.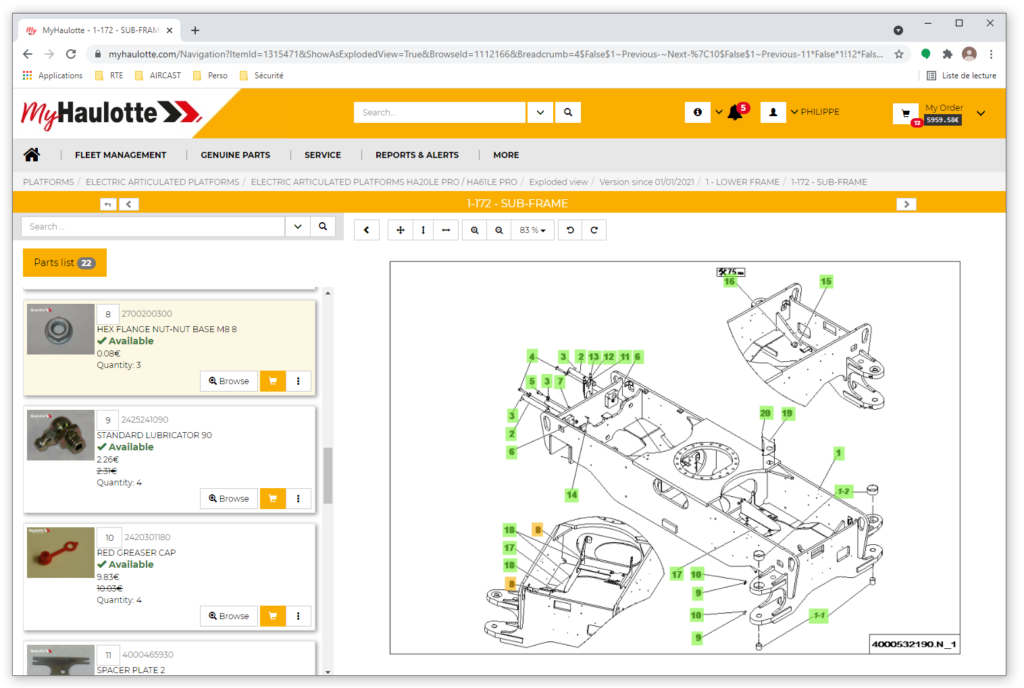 The objective
The industrial sector is in the midst of a digital transformation.  Today we talk about the digitization of machines, and we think more in terms of use than possession.
The owners of aerial work platforms (rental companies, construction companies, etc.) now wish to have machine usage data in order to control their correct use and ensure that they are not moved to other sites or operated outside the scheduled periods for example in the evenings or the weekends).
The solution: a new "all in one" web portal, "My Haulotte"
Haulotte decided to offer its customers a user experience tailored to their needs via a new web portal. This portal contains both information related to after-sales service, but also machine usage data (consumption, technical incidents, geolocation, etc.).
Haulotte have now equipped the nacelles with telematics boxes (trackers) to collect machine usage data. The nacelles of older models are fitted as a retrofit. These boxes contain SIM cards and upload data to the cloud.
"We needed a web portal to allow users to view the data. No standard solution existed on the market, so we decided to create our own portal", explains Mathieu Parent, Digital Experience manager at Haulotte.
"Rather than creating a second portal for these new functionalities, it seemed more natural for us to provide a single portal with all the available services", adds Mathieu Parent.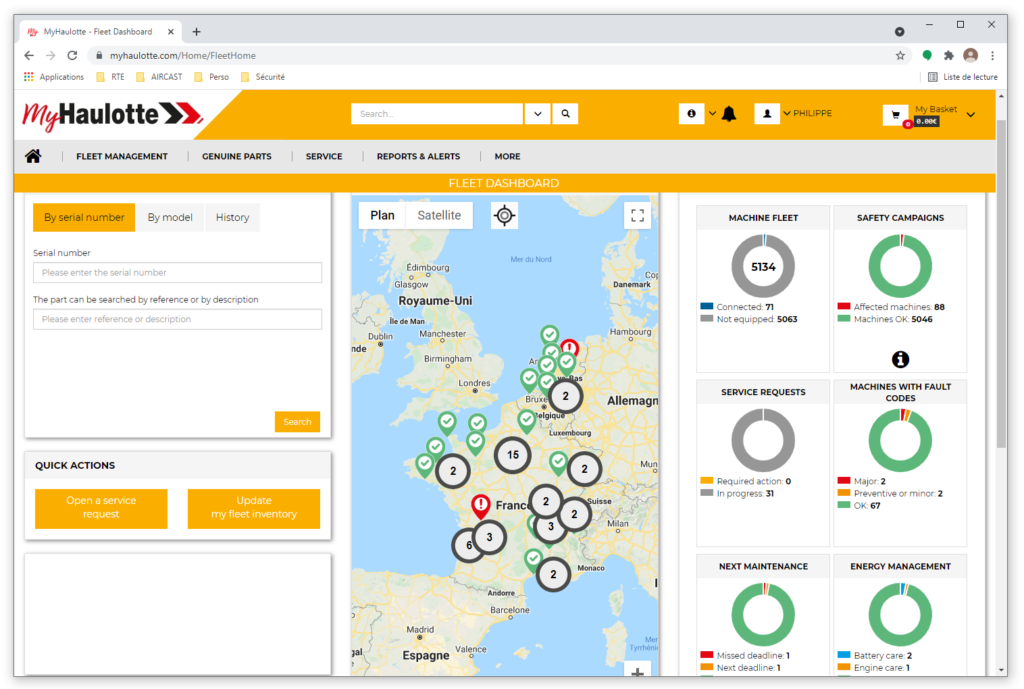 Example of use
Thanks to "My Haulotte", a boom lift rental company will now be able to check the exact duration of use of its machines.  (If the rental duration is due to stop on Friday, but the machine is returned the following Monday, the rental company will be able to check to see if it has been used over the weekend).
The after-sales service portal "My Haulotte" has been enriched with high added value functions such as:
Geolocation of nacelles
Real-time feedback of usage data (battery level) or fault codes
Fleet management for the customer (site, assignment, etc.)
Intervention request and follow-up
Geofencing (sending alerts when the platform leaves a work area or is used outside of established hours)
The development of the portal is the result of a collaboration between several teams: the internal teams of Haulotte for the interconnections with the ERP, two integrators for the box, data collection and the APIs and RTE Services teams for the front end of the website.
The advantages of RTE Services: expertise and proactivity
Haulotte appreciates two areas of expertise of RTE Services, on which it has relied on throughout the project:
The IT expertise of a development specialist,
The after-sales service provider business expertise (Documat Brand) and Geolocation (RTE Geoloc).
RTE Services strengths were that they were able to offer technical, functional, and ergonomic choices, etc.
"We have been working with RTE Services for over 10 years. We appreciate the professionalism and responsiveness of the teams who listen and understand our needs, which allows us to collaborate with confidence and transparency and we share the same strategy.  RTE understands our vision and spontaneously offers solutions. In addition, the work is always of high quality and delivered on time. Over the years, a real relationship has been forged and today we can say that RTE is much more than a service provider, it is a real partner" adds Mathieu Parent
RTE Services strenghts
To be able to listen
Their reactivity
Expertise in both development and software editing
Respecting the schedule and budget
Ability to propose new developments
Expertise/knowledge to push back/challenge Haulotte
Next steps
Haulotte is continually improving its processes in partnership with RTE Services, which regularly makes suggestions for changes to the user interface.
As the standard Google Maps mapping solution is not available in China, alternative mapping systems are being explored.
Haulotte is also interested in new features such as usage restriction, which would make it possible, for example, to immobilize a vehicle on weekends.
"RTE Challenge the needs of Haulotte and vice versa. We appreciate the support on a human scale. 
We remain flexible while being able to manage international projects. It's a co-project", concludes Mathieu Parent.
About Haulotte

Haulotte Group is one of the world leaders in lifting equipment for people and loads. The group designs, builds and markets a wide range of products, the core of which is the aerial work platform and telehandler.
About RTE Services

For more than 20 years, RTE Services has been ensuring the digitisation and optimisation of the after-sales activities of numerous manufacturers. RTE Services works continuously to enable its industrial customers:
to simplify or automate their after-sales processes,
to improve the quality of information and its accessibility,
to increase their sale of spare parts or accessories,
to increase the satisfaction of their customers.