33% productivity gain
VMI MIXING
VMI is one of the world leaders in the market for mixing equipment and technologies. The company designs, assembles and installs innovative equipment such as kneaders, mixers and automated mixing systems.
VMI is aimed at food, health, and chemical industries, but also artisanal bakers.
For the artisanal bakery market, VMI relies on a network of dealers ensuring machine maintenance, while in industrial markets, customers are in direct contact with VMI teams. Ensuring the maintenance and after-sales service of these mixers and industrial devices requires being able to consult documentation from an accurate technical database for each piece of equipment.
About VMI
Mixing technology and equipment specialist
3 activity sectors:
Arts and crafts
Food industry
Health / chemical industry
Global presence in over 90 countries
Creation date: 1945
Site: www.vmimixing.com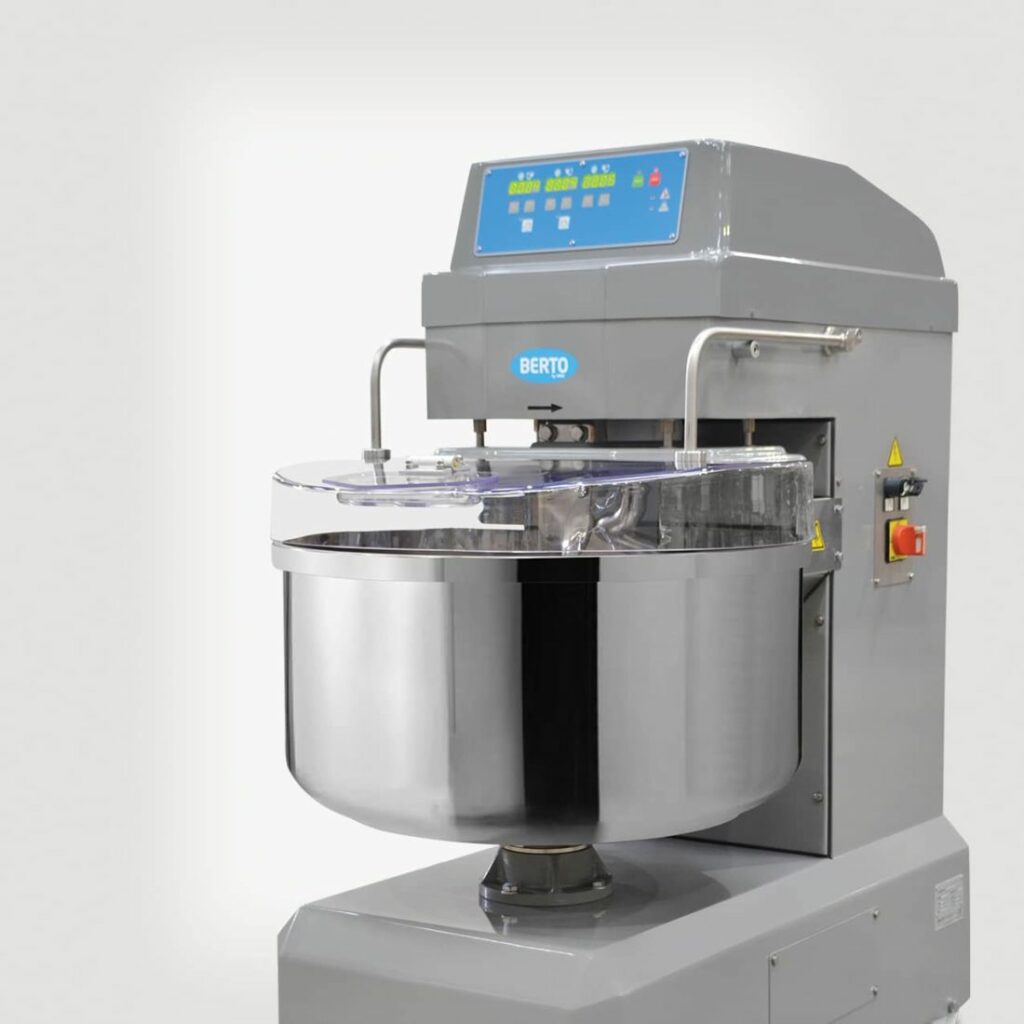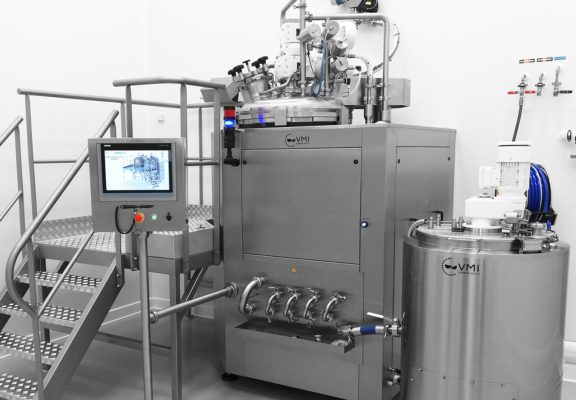 Testimonials
Arnaud NAGEL
Directeur Service Client
Stéphane GUILLAUME
Customer Service Manager for the crafts / semi-industrial division
The problem
Until 2015, VMI's customer service responded to requests from customers and resellers without having a specific tool, and exchanges were carried out mainly by phone or email.
Outside of VMI's office hours, customers did not have the option of requesting a specification sheet, getting a quote, or ordering a replacement part. This was particularly problematic for resellers within other continents, due to the significant time difference with France.  In some cases, it took up to 48 hours to receive documentation or a quote.
The solution: an "e-service" portail for resellers and customers
At VMI, the digitization of documentation had been effective for a few years, the machines were therefore delivered with CD Roms or USB keys.   By 2015 CDs were obsolete and some companies did not allow the use of USB sticks for security reasons.
A business project for the implementation of an extranet was therefore launched. Arnaud Nagel, Customer Service Director and Stéphane Guillaume, Crafts Customer Service Manager, actively participated in the project so that customers and resellers could access technical documentation, obtain quotes, and order spare parts. The e-service portal makes it possible to provide technical information to customers and resellers 24 hours a day, without constraining office opening hours. It can therefore absorb a large part of the requests received and as a result this reduces the customer service burden. The portal is interconnected with SAP, especially for quotes and online orders.
The e-service portal
1,200 users
20,000 parts ordered per year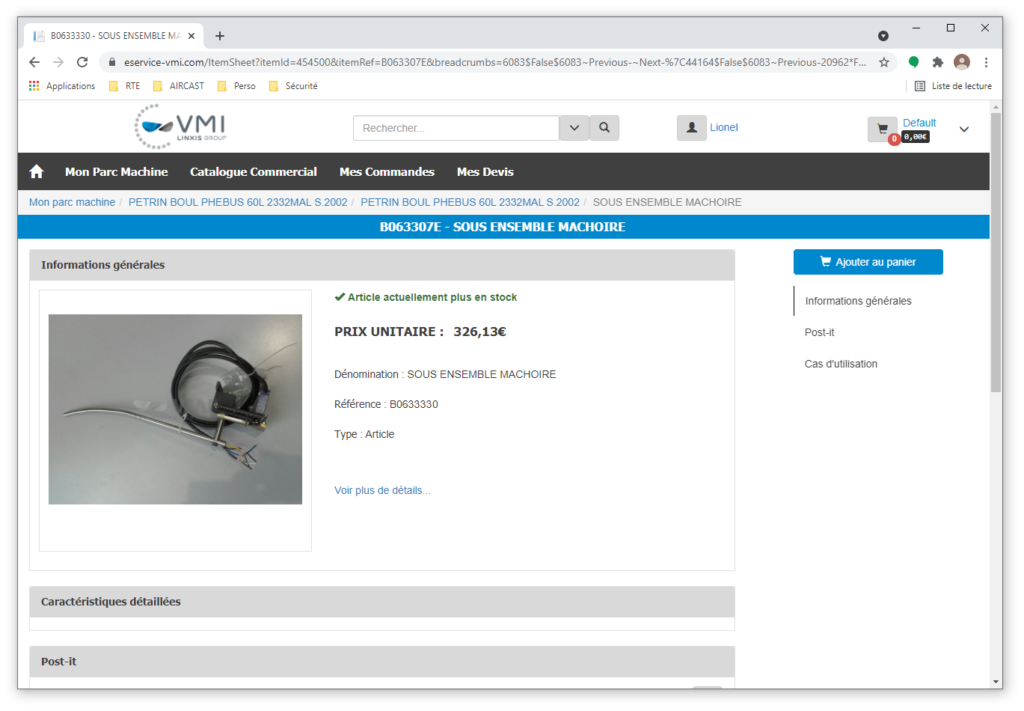 Features
Visualization of equipment/models
Access to technical and commercial documentation: manuals / repair / maintenance manuals, machine parts lists
Visualization of spare parts lists with price, availability, and stock
Shopping Cart function and request for a quotation
Order visualization and follow-up
The RTE SERVICES solution
Expertise, ability to listen, responsiveness
"The RTE teams have been involved in our project from the start, so they know our business and understand our needs" adds Arnaud Nagel.
"We were able to interact with customers who were already equipped before adopting the solution. We were looking for a standard product, which was both interconnected and adaptable. RTE Services' DOCUMAT product met our expectations fully" he adds.
"We had very good discussions with the teams in the pre-sales phase of the project. Our contacts are always attentive to our comments and had the know how to adapt to our issues. The teams respond within the day and our exchanges are always pleasant and serene" adds Stéphane Guillaume.
Time saving, Quality and productivity
Resellers, especially international resellers save time.   They no longer wait for the office to open to get documentation or order a part.
There is also a reduction in errors (re-entering references and duplicate orders).
With the implementation of the e-service portal, VMI has also gained in productivity,
fewer phone calls, fewer emails to process as orders are placed directly online.
"Of the 3 people in charge of entering orders, we managed to reassign one person to work other tasks, thus saving money and productivity by a third".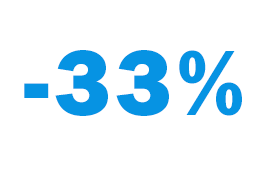 "This also resulted in a 33% reduction in administrative burden, freeing up time for other projects."
Challenges and prospects for future developments
"While some of the users have adopted the portal widely, we still have to prove to some of our collaborators and resellers the power of the tool, so that they in turn adopt it.", Explains Stéphane Guillaume.
"Our challenge now is to move on to documentation with 3D machine views with "clickable" parts. RTE Services after-sales solution makes it possible to do this technically, and now it is up to us to carry out the 3D conversion of our oldest documentation" concludes Arnaud Nagel.
About RTE Services

For more than 20 years, RTE Services has been ensuring the digitisation and optimisation of the after-sales activities of numerous manufacturers. RTE Services works continuously to enable its industrial customers:
to simplify or automate their after-sales processes,
to improve the quality of information and its accessibility,
to increase their sale of spare parts or accessories,
to increase the satisfaction of their customers.